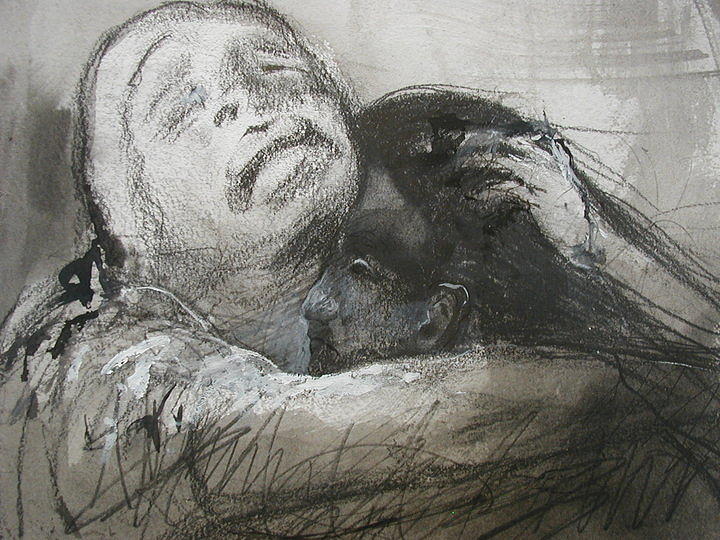 Friends, it's been a couple of weeks since a post on my sabbatical reflections.  There are many ah-ha moments from the sabbatical that are noteworthy, but I'm not sure how to write about many of them.  Frankly, some of them probably are meant to stay between me and the Lord.  Having said that, I do feel that I learned something about suffering, and my understanding of it, that might help someone out there.
There are probably more than 3 sides to suffering, to a Biblical understanding of suffering, a theology of suffering, you might say.  But, I recognize three.  First, God is sovereign.  That means He's not surprised by your suffering.  He's not unaware.  Suffering isn't coming at you unbeknownst to God.  On the contrary, He has determined it for you.  It had to pass His desk before coming your way.  And that's why we can, first, take hope that nothing will befall us that our good Father hasn't brought about.  Second, it means that the end of the suffering is planned and it will be for our good, and it will bring Him glory.  We can be 100% certain of that.
This is the part of suffering that I've understood for years.  I've held to it as our little family has walked through a few years of hardship.  Passages like Lamentation 3.37-38 and Romans 8.28 are starting points, as is the story of Joseph in Genesis, but you can find this truth throughout Scripture.  It's actually a powerful elixir of hope for us – our Father has all of this in His hands, and He is trustworthy.
There are, however, two other sides to suffering.  The first is this truth: God may ordain your suffering, but you are responsible for/to it.  Or said another way, whether you sin in response to your suffering OR you trust God in the midst of your suffering will determine in large part the intensity of your suffering.  It's one thing to say, as Ed Welch shares about, "God, you've let this happen to me.  I'm so angry at you for making me an alcoholic!"*  It's another thing to recognize your role, your responsibility, your sin in your journey of suffering.  That you bought the bottle and emptied it.  Emma Scrivener (books and blog) has been so helpful in this, showing that, even in mental illness, our sin plays a part.  Of course, Satan would want to increase our suffering and our flesh wants to run from it, ignore it, numb it.  Let me give you a personal example.
My family has experienced a slew of health challenges over the last 7 years.  They weren't our fault in that we didn't choose them or do something to contract these things…so, in a sense, we can only receive them as from God (even if Satan is the means of our suffering).  So, how did I respond?  By isolating myself, trying to comfort myself, or throwing a pity party for myself…in doing this, I made my suffering worse.  I was disconnected from community which could have been a real help.  I put my hope in sleep, food, TV, etc. expecting they would comfort me.  More than all, I isolated from God, the God of all comfort.  I turned in on myself and become infected.  Instead of being able to learn the deep wisdom of that suffering, I wallowed.  So, this second side of suffering is that sin compounds our suffering while faith teaches us and comforts us through suffering.
Now to the third side, which is related to that last statement.  Before I share it, let me say that I knew the first side well.  I believed it, but I didn't understand this third side.  And without this third side, much of what God wanted to do in my life was stymied.  Here's the third side: God isn't just in control of your suffering; His desire is to walk with you through your suffering.  Side one doesn't tell us to just "grin and bear it" until God somehow makes it all OK and we learn the lesson of suffering and then move on.  No!  He isn't only the God over our suffering, but He's also the God who is near to the brokenhearted.  Just as Jesus (who understood all that was about to happen in the lives of Mary, Martha, and Lazarus) said to Mary, "Where have you laid him?," goes to the place of suffering to weep with Mary, so also He does this with us…He says:
Show me your suffering.

Let's go there together.

I want to be there with you.
He's not asking us to be fatalists – waiting for the bad to simply stop – or dualists – waiting for the good to balance out the bad.  Suffering is an invitation to intimacy – messy, tear-filled, full of outbursts intimacy.  This is actually part of the secret to all the GOOD that the Lord wants to bring about in our suffering (Rom 8.28) as we saw in side 1, and it also guards us against falling into the traps we saw in side 2.  Our ultimate good is that our suffering is preparing us for eternity with Jesus, but even in this life, He's bringing out fruit that lasts as we press into Him in our suffering.  Read Job, read Habbakkuk, read the Psalms.  This is the pattern –
suffer
go to God
wrestle/rest/plead/argue/collapse with Him in the place of suffering
start to see Him more clearly
allow faith to grow
experience renewal
and wait peacefully with Him until suffering ends, whether in this life or the next.
Friends, that transforms suffering.  That turns suffering into a supper table, where we sit with Jesus, and we get a foretaste of the Heavenly feast!  I'm learning, I think, to turn to Him more quickly in suffering.  Whether it's small suffering like an argument with a friend, or big like chronic illness.
*Ed Welch, A Letter to an Alcoholic, CCEF Journal, volume 16.3